The Future-Proof Business Transformation Playbook – 5 Pivotal Pillars for 21st Century Leaders
Authored by Paul Oppong

Contemporary business environments are going through rapid transformations. Even the most traditional organizations now require a fresh approach towards leadership, which is the primary key to survival and growth in these turbulent times. This effectively means there is indeed some pressure on today's leaders to take the right steps & future-proof their businesses. With changing business narratives, future planning has never been so critical for the success of your organization. The core idea is to remain proactive and decide what organization should you become to sustain and succeed.
If you're looking to accomplish big in the next two decades, there is a need to rethink and challenge almost every belief you've carefully created so far. Conventional management and leadership models must be replaced according to the requirements of future employees, situations and markets. To remain competitive, you need to challenge your brain at each critical juncture.
"The Future-Proof Business Transformation Playbook – 5 Pivotal Pillars for 21st Century Leaders" offers incredible insights, and actionable strategies to help you accelerate the process of innovation within your organization. With Paul's ROI-based approach, you'll discover five fundamental pillars that, when combined, create capabilities and competencies to adapt and innovate.
These are five crucial aspects for any business, and we'll discuss each one of them in detail to make them into a competitive advantage.
1.Innovation – Understand the concept of innovation and how "failure" can be made to work. The focus would be on tech businesses like Healthcare, IOT, among others. This is how you unlock your potential and become a seasoned game-changer each time.
2.Leadership – How to bring transformation as a leader and how to be a role model that everybody can look up to. Discover the goals and the purpose of great leaders. You will also learn the best ways to motivate the workforce of the future.
3.Employees – Recognize millennials and how the attitude towards work is changing. Also, focus on reinventing the employee responsibilities and engaging your workforce naturally.
4.Change – Learn about reinvention and change management. Explore examples from organizations that are managing the change well. Know the right way to welcome the new ideas into the ecosystem.
5.Customers – Be aware of what has changed and how to prepare for the future. Manage new and existing buyers and see how customer experience is at the center of everything
.
Creating a resourceful, innovative environment is definitely the biggest challenge in the 21st century. There is a strong need for leaders who know how to devise a vision and then collaborate (and not manipulate) with teams and resources to reach the end goal.
This book is one such ready-made resource for managers, leaders, trained professionals, and consultants to understand the cutting-edge concepts, theories, models, and real-life case studies for systematically revitalizing their niches. You'll find tons of transformation strategies that can be directly applied to your industry.
If you're looking to unlock your potential, you're in the right place. This book will show you how!
Motivational Agility – A Modern Way of Motivating, and Energizing Teams
Authored by Paul Oppong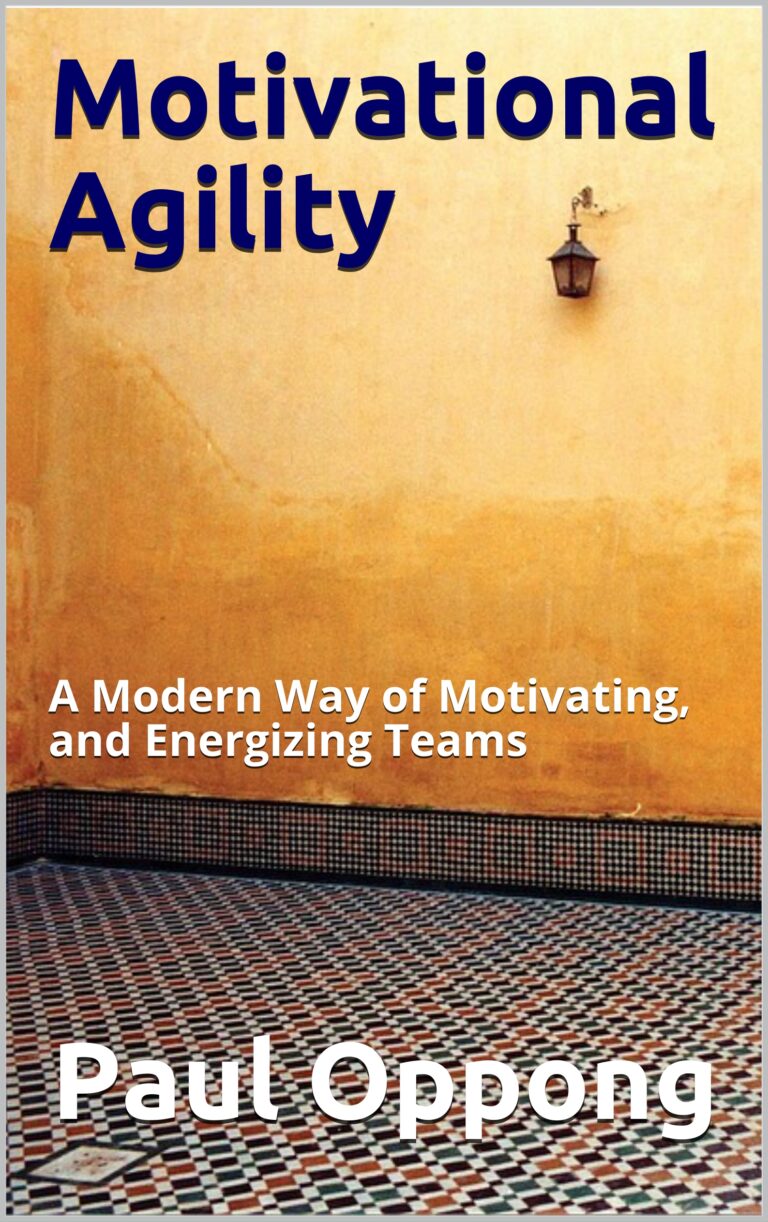 Low motivation is a familiar trap that ensnares most employees. Even though standard business literature is packed with advice on this topic, it is never easy to deploy a targeted strategy to keep your employees engaged all the time. Given that most employees are quite enthusiastic when they start a new job, what exactly happens along the way?

Now that is a tough question. Even tougher is to discover what you can do to ensure your employees enjoy their job (especially when it is difficult to use any single method and keep everyone motivated throughout their tenure.)

Enter motivational agility – a perfect combination of multiple initiatives to ensure less churn, better productivity, and improved engagement. In this book, you will discover this unique concept and much more in ten accessible chapters.

•Obvious indicators of low employee motivation
•Why common employee incentive plans don't work
•The myths & perceptions that are holding you back
•The types of employees you find in every workplace
•Prepare your workforce for change and transformation
•Basics of motivational agility
•Understanding motivational agility – I
•Understanding motivational agility – II
•How to effectively motivate a remote workforce
•The "real" master key to workplace motivation

Over his career as an experienced digital transformation consultant, Paul Oppong has seen the corporate world from close quarters. You will surely enjoy his commentary, useful insights and flexible frameworks to keep your employees in a magical zone of motivation.

Time to make a difference.
by Paul Oppong
Leadership Excellence: Approaches, Tools, Strategies, Ethics & Attitude To Improve Your Performance
Authored by Paul Oppong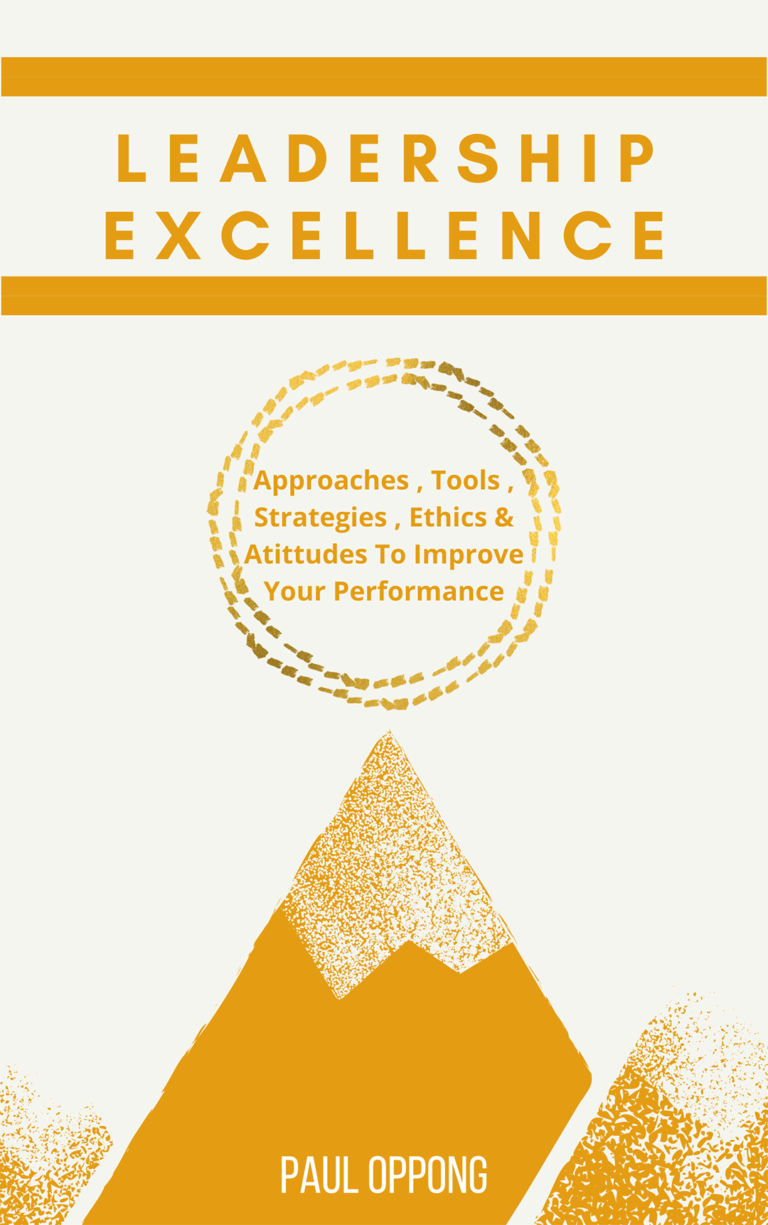 The concept of leadership is incredibly complex and diverse. What are the main types and styles of leadership? How should we use them? Is it possible to learn how to become a better leader? These are just some of the questions we will address in "Leadership Excellence".
It is not a coincidence that the book that seeks to offer advice on how to improve performance in any organisation and team relies heavily on the modern concepts of leadership.
We have learnt so much since the early days when everyone believed that leaders were born, not made. But it is possible to improve your leadership skills and become someone others can rely on. That is the essence- being accountable, honest, confident, and open-minded. Being in tune with employees and their emotions.
Here are the two main types of leadership that we will talk about often:
1. Transformational leadership
2. Transactional leadership
Transformational leaders are often relying on subjective perceptions of employees and are trying to establish a more meaningful relationship that will result in better performance.
On the other hand, transactional leaders are more focused on the work process structure, organization, and strict management. Transformational leadership includes concepts like inspiration, motivation, and empathy. Transactional leaders are less focused on these emotional aspects and pay more attention to ensuring that the production process flows seamlessly.
Modern leaders must learn new things every day. And "Leadership Excellence" offers several possible directions, pathways, and alleys you can choose from. Whether you are simply trying to "up your game" or if you aspire to become a good leader somewhere in the future, this book is the best starting point for you.
There are no easy recipes for success- there is only a life-long determination, a quest to improve yourself and others. This book offers no easy solutions, simply because there are no easy solutions. Your perseverance, determination, and mental strength will make the difference, nothing less, nothing more.
Books